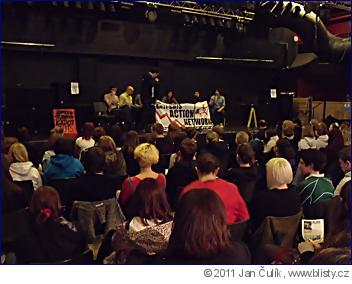 MODERN LANGUAGES IN GLASGOW UNDER THREAT
15. 2. 2011
Students in Glasgow protesting against the proposed cuts, 11th February 2011.
Senior Management of Glasgow University has proposed to close down most of Glasgow's Modern Languages and Cultures provision.*) This provision forms a part of an outstanding Centre of Excellence, especially for the study of Central and Eastern Europe. Glasgow managers are doing this IN DEFIANCE to national policy, which now supports the teaching of modern languages and cultures in UK universities.
Your expression of support would help us a great deal.
Please, help!
Glasgow University senior management says that the closures under consideration are due to cuts, but at the same time advertises posts for new professors and has a large and growing, highly paid staff of bureaucrats and administrators.
It is not enough to protest to Glasgow university managers; please write to your MSPs, to the Scottish Education Secretary and to the media at the same time.
The Herald, Scotland: "University to press ahead with cuts despite protest"
BBC: "Thousands protest over Glasgow University 'course cuts'"
Please send your protests against the proposed closure of Modern Languages and Cultures in Glasgow not just by email but
also by snail mail, on headed notepaper.
It is more effective if people write on headed notepaper. If people receive an official letter, they have to mobilise their office staff to draft and type a reply.
Write to Glasgow University Principal, Anton Muscatelli, and to the University Court Secretary David Newall asking him to copy your letters to all court members.
HERE is the list of Court Members.
The address is:

University Court
University of Glasgow
Glasgow G12 8QQ
Scotland
United Kingdom.

Glasgow has a Language-Based Centre of Excellence for the study of Central and Eastern Europe, which has been awarded a grant of £4.7 million in 2006 and the UK government and the grant giving agencies still support it today. In spite of that, Glasgow University Senior Management is proposing to close down most of Glasgow's modern languages and cultures provision.
If you want to see what they propose to cut, look at these three short videos about Slavonic Studies in Glasgow:
HERE
HERE
HERE
THE UNIVERSITY COURT WILL BE DISCUSSING VARIOUS ALTERNATIVES OF WHICH MODERN LANGAUGES AND CULTURES TO CLOSE DOWN DURING THE FORTHCOMING WEEKS.
THEIR DECISION IS DUE TO BE ANNOUNCED AT THE END OF APRIL 2011 OR EARLY IN MAY 2011.
Please write to at least some of the members of the University Court and to the Scottish Education Secretary.
The addresses are below.
Thank you.
University Court, Glasgow University:
Academic members of the University Court:
Vice Principals:
Heads of Colleges:
Scottish Education Secretary:
Michael Russell MSP
The Scottish Parliament
Edinburgh
EH99 1SP
We have also drafted a letter to the Scottish Education Secretary Mike Russell, MSP.
If you are willing to add your name as a signatory, please send an email urgently to: saveglasgowlanguages@gmail.com
In the email, please give your title, name and subject area
Draft letter to Scottish Education Secretary Michael Russell:
Dear Mr Russell,
The cuts in academic provision proposed by the University of Glasgow management must be a matter of public and political concern for the greater Glasgow area and for Scotland as a whole. The University management is bringing forward plans to cut courses in a range of Modern Languages (possibly reducing provision to only two languages), in Nursing, Anthropology and Adult Education, as well as cutting back in areas such as Archaeology and Classics and the Centre for Drugs Misuse Research.
Universities are independent institutions, but they are publicly funded and are a vital part of the economic, cultural and social fabric of this country. The future of university funding in Scotland is unclear. Pending decisions on future funding mechanisms and levels, which will be taken following the Scottish elections in May, every effort must be made to avoid damaging and irreversible cuts to subject areas. The management of any one institution must not be allowed to pre-empt political decisions and unilaterally decide the shape of future educational provision in key disciplines in Scotland's largest city.
Recent reports have highlighted the importance of languages in higher education. In 2009 Baroness Coussins commented, `unless the decline in modern language learning is reversed, Anglophone Britons will become one of the most monolingual peoples in the world, with severe consequences for our economy, for business competitiveness, for international reputation and mobility and for community cohesion at home.' The British Academy report 'Language Matters More and More' (9 February 2011), warns that further reductions in language provision in universities `will have wider detrimental impacts on UK social, cultural and economic well-being'.
Teaching and research in Modern Languages and Cultures has suffered severe attrition in Scotland in recent years. There have been cuts or ongoing threats of cuts in the range of languages taught at Edinburgh and St Andrews. Languages provision at Strathclyde has been reduced severely with the loss of Russian and German and a massive reduction in the complement of full academic staff in the remaining areas. The University of the West of Scotland is phasing out languages, and Glasgow Caledonian does not offer language degrees. At Stirling, only French and Spanish degree courses are provided. Notwithstanding serious reductions in staffing over some years, Glasgow remains the key provider of degree courses in a wider range of foreign languages and cultures in the West of Scotland.
Alongside the threat to degree programmes in Modern Languages, there is a serious threat to cut courses in Adult and Continuing Education. Language classes account for a major part of the activities of this unit. The proposal to axe these courses along with the plans potentially to cut degree level courses in Czech, Polish, German, Italian and Russian represent a comprehensive assault on educational provision in foreign languages and cultures in the city of Glasgow and the West of Scotland.
We call on you as the Minister responsible for Higher Education to do everything in your power to influence the management of the University of Glasgow and to ensure that the University continues to fulfil its historic role as an outward-looking institution rooted in the community that it serves rather than working primarily to maximise income in the international marketplace. In this respect the recent British Academy report urges universities to `adopt a wider definition of `internationalisation' rather than focus simply on the recruitment of overseas students'. The University of Glasgow must continue to serve the needs of Scotland in providing excellent higher education that can open up international and European perspectives for the young people of Scotland, giving them the opportunity to develop high-level linguistic skills and intercultural understanding as part of a broad ranging humanities education.
Student demonstration against cutting courses in Glasgow which took place on 16th February 2011. Some 2000-3000 people took part. See for instance:
BBC: "Thousands protest over Glasgow University 'course cuts'"
>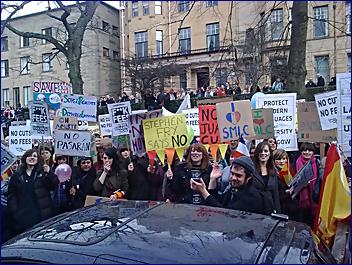 *) Three alternatives have been offered:
Withdrawal from three language areas, no longer offering them to honours level. This would release resources for reinvestment in French and Hispanic.
Withdrawal from two language areas, no longer offering them to honours level
Preservation of joint honours programmes in the majority of the main areas of activity, with single honours in the remainder, moving staff to "teaching only" contracts as appropriate.
The aim of the cuts is to save L750 000 annually.
(The quote is from a Glasgow University Court document, February 2011.)
The five areas are: French, Hispanic, Italian, German. Slavonic (Czech, Russian and Polish).
Slavonic Studies is a part of CRCEES, a Language-Based Centre of Excellence for the Study of Central and Eastern Europe, funded by the British grant giving bodies of AHRC and ESRC in 2006-2011 by L4,7 million pounds. The highly intensive language courses in Czech, Russian and Polish, are an essential part of the CRCEES provision. The other Glasgow University pillar of CREES is "Central European Studies" a social sciences department. Glasgow University students study social science courses in CEES and cultural studies courses in Slavonic. Both provisions jointly create a unique synergy. If Slavonic Studies in the College of Arts is closed, the unique synergic centre for the study of Central and Eastern Europe in Glasgow (made up of CEES and Slavonic) will be weakened. In depth study of some languages and cultures (full university Honours courses) will no longer be possible.
Vytisknout