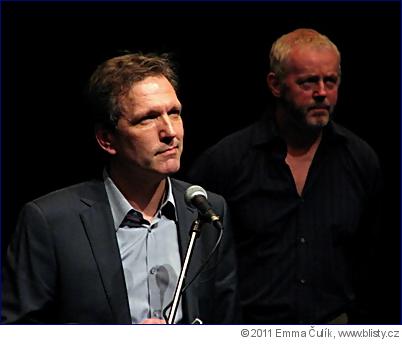 KARLOVY VARY FILM FESTIVAL:
Collaborator A Film that Questions our Certainties
5. 7. 2011 / Ema Čulík

< Writer, director and actor Martin Donovan a actor David Morse in Karlovy Vary
When we write criticism, we find ourselves saying "should" all the time. I don't mean explicitly, but we always take a certain moral and cultural standpoint. "Films should be engaged and engaging." "Characters should be genuine and sympathetic." "Problems should be examined thoroughly." Even when I write scripts and film pitches, I find myself taking a certain moral and artistic standpoint. We all have our principles and our convictions. Art, and journalism, and also all of our actions in this life, are confirmations and embodiments of those convictions. Liberals have a nasty tendency to be particularly guilty of being holier-than-thou. It would do us good to turn around and examine ourselves from time to time.
In Collaborator, dir. Martin Donovan, (USA, Canada, 2010) the main character, Robert Longfellow, is forced to do just that. He is a playwright whose career has taken a downward turn and whose last play has just been ripped to shreds in the New York Times. He is neglecting his wife and two children and thinking about an affair with Emma Stiles, a Hollywood actress with whom he shares an indeterminate sexual history and with whom he plans to work together on a screenplay. He goes to Los Angeles to discuss a collaboration on the script for a horror movie, at the same time visiting his mother at his childhood home in Reseda in The Valley. While there, he is visited by his neighbour and former classmate Gus, who is fifty seven years old and has never moved out of his parents' house, doesn't have a job, has been in prison many times and permanently has a can of beer in his hand.
Gus invites Longfellow to sit and have a few "frosties" with him some time before he goes. Robert politely and deftly worms his way out of it a couple of times, until finally he gives in (just to have one beer, before he goes off to meet that actress ). They start to chat and drink some beer, as special units of LAPD start taking up battle stations outside Gus's house. Soon Longfellow finds himself a hostage of the "armed suspect" Gus, who just keeps saying that he wants to have a few beers and chat, all the while holding a pistol in his hand.
What follows is a sparkling double-hander that moves from polite chit-chat to threats and spiteful affronts, from beer after beer after joint after pill after beer to a phone conversation with the actress Emma to theatre improvisations. ("How do you write, anyway..?" "I steal most of it.") These tightly drawn scenes, beautifully acted from a razor sharp script, show how Robert plays the diplomat, adjusting even his vocabulary and register to speak to Gus in "his language". Slowly, though, they start to warm to each other. Robert decides to show Gus that he too can write -- obviously, he is thinking, if he can find a mode of expression, perhaps he might find his way back to the right path in society. It works, in fact, as Gus is delighted by the fun and the possibilities of improvisation games. It's not even the idea of escapism that pleases him, but the creative impulse on some very basic level, the possibility to utter a phrase hypothetically, to follow a logical thought process.
He turns out to be pretty good at it, and Robert starts to see him in another way. The power games happen on an intuitive level. Robert is always modest and very careful to behave respectfully to others. Somewhere at the back of his mind, though, deep down, he knows he is right. He continues to believe this almost until the very end. As he calls Emma and lets the starstruck Gus talk to her, he still feels in a position of control. It all lets rip in the end as another improvisation leads them onto the topic of Robert's elder brother who was killed in military action. Here comes out that taboo, that topic in America that people do not talk about in polite conversation, that gulf between the "patriots" and the liberals. Gus had wanted to join the army, he had dreamed of it as a teenager, and finally was not taken because of "mental instability". He still believes, however, that Robert's brother died "in honour". He even envies him a little. Finally Robert explodes. Captive, exhausted, his extramarital straying broadcast over the news, he says what he really thinks. But now he has no clever turn of phrase left. "You are stupid" he spits at him.
Then, not ten minutes later, as Gus lies on the floor, picked out by a swift police bullet that came from nowhere, Robert's final words echo in the air, "Were you acting??" A spotlight falls on the body of Gus and the playwright hears applause, the warm, appreciative applause that he had been craving. Is that what you wanted, now? He had been so principled, but where did it get him. He's alive, his captivity is over, and what now. He is still a failing dramatist, and now his family relationships are under threat and there is no longer any question of his collaboration with his starlet. Gus had his principles which did nothing to help him. How is Robert any better?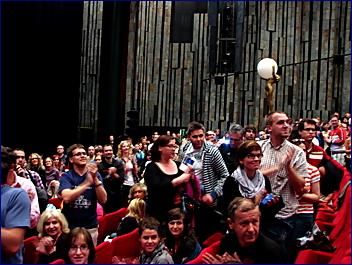 The fatal blow in the film is dealt in these dialogues between Gus and Robert, but the film's power lies in the fact it develops organically. Everything is present at the start, all the elements and problems are already set in motion, they are just revealed, to us and to Robert himself. The factors at play are deeply honest, they touch on many of the problems that we might not acknowledge we suffer from. And the film's issues are all sharply relevant to today: the way that American citizens see and rationalise their country's foreign policy and its violence throughout the world, the power of celebrity (Gus is absolutely pacified by his conversation with Emma) and the difference between the people who appear in magazines and those who read them, the power of the media to influence and control our lives (Robert's infidelity is opened to the world by a paparazzi film released to the news the moment he is in the spotlight), and finally, the moral responsibility to justify our actions, and to reassess our beliefs. When everything is possible, then we are all the more obliged to make sure we are acting in a worthy way. Even if we are liberals.
Vytisknout