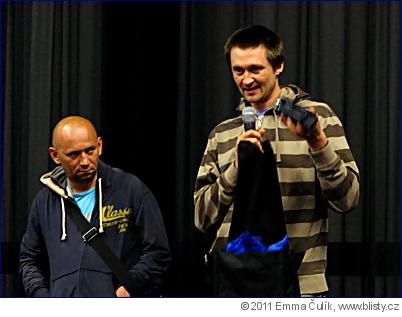 KARLOVY VARY INTERNATIONAL FILM FESTIVAL 2011
Ja tebya lyublyu - an outstanding film about contemporary Russia and Russians
3. 7. 2011 / Ema Čulík

< Russian filmmakers Pavel Kostomarov and Alexandr Rastorguev
There is a really interesting tendency surfacing in cinema recently. Namely, filmmakers are stepping across the boundary between narrative and documentary film -- but only halfway. There has been a slew of films recently which have defied categorisation, much to the fascination of critics and the frustration of festival programmers.
One of the best of these is last year's The Arbor (2010), (UK) which took recordings of real monologues by the family of playwright Andrea Dunbar and dramatised them with actors who mouthed the words. In America there was Catfish (2010), a film about a young guy making a relationship with a girl on facebook, the authenticity of which was doubted by many though the truth was never revealed. Even Hollywood has got in on it with I'm Still Here (2010), a film "documenting" Joaquim Phoenix's (Walk the Line, Signs, Gladiator) departure from the world of acting to start a hip-hop music career.
The mockumentary, or docu-drama may be the perfect genre for our time -- the era of "reality tv", Internet relationships, CGI and viral PR. Films nowadays seem either to be about escaping reality (Inception, Přežít svůj život) or not understanding what it is. Russian filmmakers Pavel Kostomarov and Alexandr Rastorguev have also taken on this "experimental" genre with their film Ja tebya lyublyu (2011). They gave little HD cameras to "actors" (the only criterium being that they be open about themselves in front of the camera) who all, over a period of two years produced 53 terrabytes of data. The material was then edited down to a fairly compact "mosaic" of only 81 minutes. The story starts out with a police officer driving to "his beloved work" in Rostov-na-Donu. His work apparently consists of driving around and agreeing with people that "you're not going to commit any more crimes, are you? Good!". Not long after, when he is out on a sting, the camera is stolen by some young guys, who then become the stars of this story, running around scraping together money, screwing girls, smoking, killing cockroaches, feeding crows, coming up with hair-brained schemes.. basically normal everyday life for a young person in contemporary Russia. The film moves from person to person in a random and organic way, as we see the camera passed on from person to person.
Each "actor" filmed themselves how they wanted, meaning that the situations were expressed in a deliciously raw manner. There are no holds barred as they fight, argue, have sex, beat people up, steal, smoke and lie on camera, their speech usually peppered with constant swearing (which I don't hear that often in Petersburg since it's not allowed on TV and my friends refuse to swear in front of girls). It was a real delight for me to watch, I giggled away as I recognised all the typical behaviour and a great deal of sincerity.
It is clear that the success of a film like this will rely on the characters. And of course here they are extremely charismatic, despite the fact that they are not the most affluent or impressive of young men, constantly struggling with difficulties with money or women, usually no one's fault but their own. However, they are sincere, romantic, they are energetic and joyful. The film is also edited masterfully and with irony always highlighting the heroes' lies, inconsistencies and awkward stumblings.
Seeing a film like this come out of Russia is extremely refreshing -- where the media are either falsely magnanimous or grim, either neglectfully selective or painting things in overly garish cash colour exaggeration (unrecogniseable from reality). Ja lyublyu tebya, however, combines explicit frankness about the social and personal reality of modern day Russia with sparkling humour and humanity. Though some of the viewers in yesterday's screening saw this film as hopelessly depressing, I saw that it was not meant to be soc-reklama, a social film, but an honest film expressing not only true Russia but true Russians.
I know Russians to be extremely loving, creative, inept and unproductive -- just as they are portrayed in the film. The difference is that the ones I know are lucky to live in a big city and to have had the benefit of a good education. I really hope that this film's audiences, in Czecho and all other countries, will watch this film with the same openness that these actors showed, and a sense of humour. There lies the true social value of this film. The most socially responsible thing we can do is to be aware of the people around us, to understand them and also to be capable of laughing at ourselves -- which this film certainly achieved.
Vytisknout