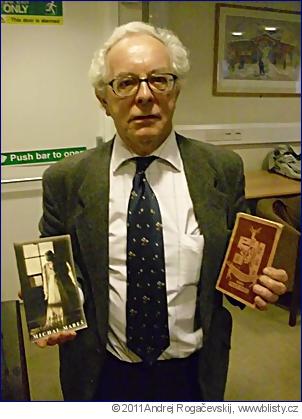 Preserved in Amber
New translations from Czech by Jantar Publishing House
17. 6. 2011 / Andrej Rogačevskij
< David Short with the original Czech and the new English-Czech editions of Mareš= s Andělíčkářka
On 16 June, in the Masaryk Senior Common Room at the London School of Slavonic and East European Studies, a book launch took place. Two titles in David Short's English translation, Anděličkářka (The Angel-maker; 1922) by Michal Mareš and Město vidím (Prague, I See a City; 1991) by Daniela Hodrová, were presented to an appreciative audience of about thirty people, by members of the editorial staff at the Jantar publishing house.
Jantar is a one-year old venture, whose aim, in the words of its owner Michael Tate, is to become a publisher of choice for poetry and fiction from Central and Eastern Europe, in English translation. Given the paucity of such outlets in the Anglophone world, Jantar may not need to wait in a long queue to fulfil this ambition. Its choice of the first two books for publication seems to have got the new enterprise off to a good start.
Jantar means `amber' in Czech, and the publisher's mission is to preserve curious and fascinating literary items for the admiration of the reading public, just like animal and plant material is sometimes found in fossilized tree resin. Both Anděličkářka and Město vidím appear to be fit for purpose. Mareš, a left-wing sympathiser in his youth, was one of the very few to raise his voice against the mistreatment of the Sudeten Germans in post-war Czechoslovakia, and paid for it with a long-term prison sentence after the 1948 Communist takeover. Some of his early work appeared in the radical left-wing Večernice publishing house -- and it is precisely a Večernice copy of Anděličkářka, with a dedicatory inscription to one Božena Černá, that attracted David Short's attention in a second-hand book shop in Prague many years ago.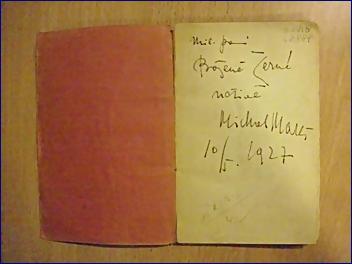 Parting with four crowns at a time when there was a hundred of them to the pound, proved to be a wise investment not only because the book is a collector's item, but also because its mix of styles makes it a useful tool in Czech language classes, which David Short has been teaching at the University College London. Quite appropriately, Jantar`s edition of Anděličkářka is a parallel bilingual one, with translation being a deliberate compromise between the literary and the literal. This way, the book appeals simultaneously to those English-speaking students of Czech who can have a go at Mareš`s original, knowing that in moments of need they will be assisted by the parallel translation, and to the Czech native speakers who have only recently begun to rediscover Mareš, and will now enjoy an easy access to one of his reprints.
Unlike Mareš, Hodrová does not need much of an introduction to those familiar with modern Czech culture -- but an introduction to Prague, I See a City..., by David Short's former student, Rajendra Chitnis of the University of Bristol, has been written so well that, in my opinion, it is worth buying the book for its sake alone. Among other things, it explains how Hodrová's sophisticated background as a literary scholar infuses her highly personal vision of Prague Město vidím was initially commissioned by a French publisher for a series of books on dwellings and lifestyles, and, if accompanied by photographs, would not look entirely out of place in a travel section). Both Short and Chitnis were present at the launch, and spoke eloquently in praise of Mareš and Hodrová. The audience, warmed up by a generous supply of Czech red and white wine to celebrate the occasion, did not seem to need much persuasion, and asked questions that betrayed its burning desire to see many more worthy Czech -- and other Central and East European titles -- in English translation, preferably without delay.
Jantar's immediate plans include the publication of Učitel dějepisu (The History Teacher; 2004) by Tereza Brdečková, in Elsa Morrison's and Jan Čulík's translation, with a preface by Jan Čulík (coming out in the autumn), and a number of books by Polish and Hungarian authors. Jantar stands for `amber' in many languages of Central and Eastern Europe, and this may well bring a good omen to the prospects of the publishing house's expansion.
Vytisknout